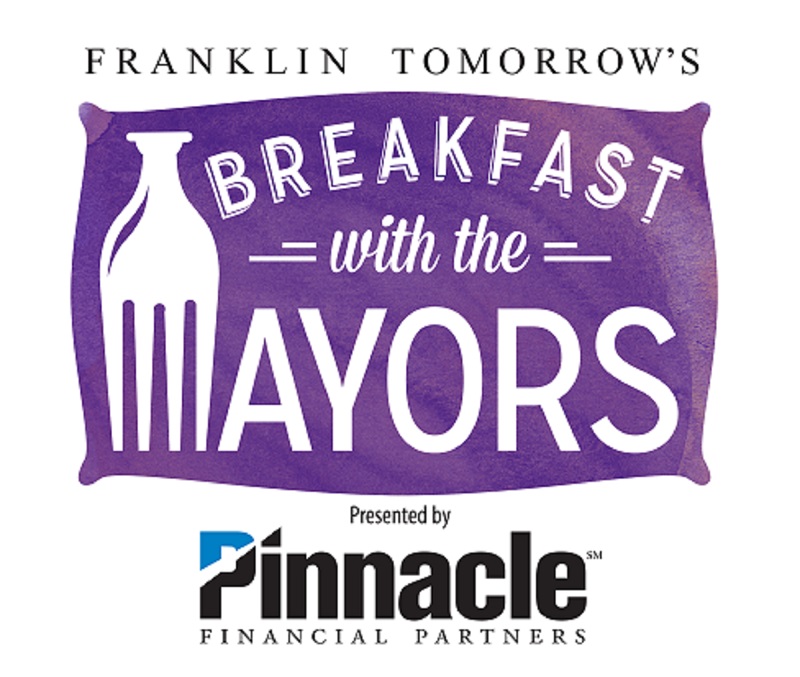 Franklin Mayor Ken Moore and Williamson County Mayor Rogers Anderson will be center stage at the Tuesday, July 31, Franklin Tomorrow Breakfast With the Mayors, presented by Pinnacle Financial Partners and a host of other partners.
The event will begin at 7 a.m. at Rolling Hills Community Church, 1810 Columbia Ave., Franklin, with a networking breakfast provided by Puckett's Gro. & Restaurant and MJ Roasting of Nolensville.
The program will begin at 7:45 a.m. with a special announcement by Franklin Tomorrow of a new initiative this fall. Then, Williamson County Mayor Rogers Anderson and Franklin Mayor Ken Moore will take the stage and answer questions you submit in advance of the event.
Breakfast With the Mayors is presented quarterly free of charge thanks to the generosity of partners, which also include Williamson Medical Center, Tennessee Equine Hospital, Williamson County Association of REALTORS, Hazen and Sawyer, Berry Farms Animal Hospital & Spa, Patterson, Hardee & Ballentine CPAs, Andrews Transportation Group, and Rolling Hills Community Church. Joining the ranks of partners starting in July is Embrey Partners Ltd.