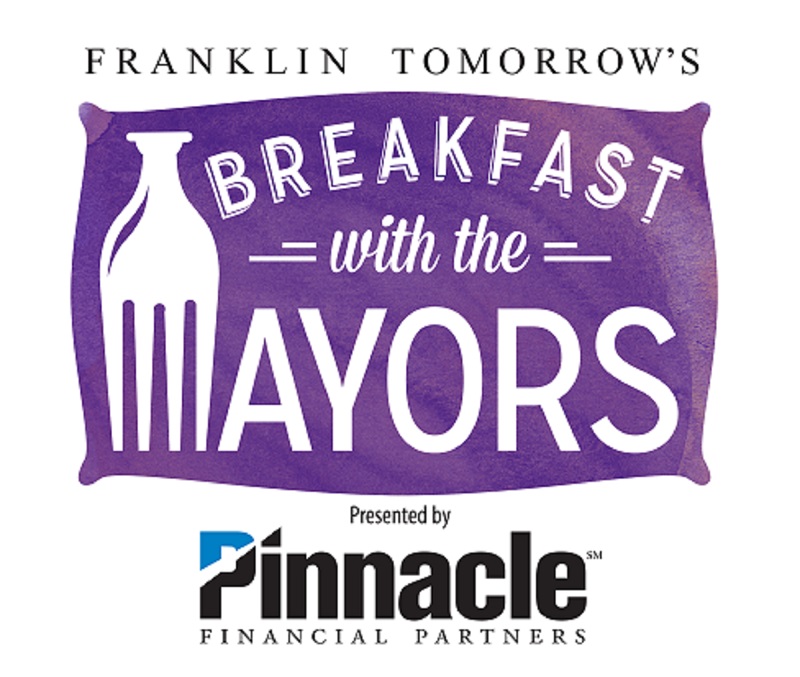 Typically center stage, Franklin Mayor Ken Moore and Williamson County Mayor Rogers Anderson will be helping lead Franklin Tomorrow's On The Table during Tuesday, October 30 Breakfast With the Mayors, presented by Pinnacle Financial Partners and a host of other partners.
Join us for a morning of conversation with the kick off of our On The Table event. With a different room layout, we invite to join other community members to sit around the table and talk about what's important to you and community. In lieu of our regular programming, you, the attendant, will be able to share your hopes for the opportunities of Franklin by lending your voice to the conversation.
The event will begin at 7 a.m. at Rolling Hills Community Church, 1810 Columbia Ave., Franklin, with a breakfast provided by Puckett's Gro. & Restaurant and MJ Roasting of Nolensville. Conversations will begin at 7:30 a.m.
To RSVP for the event, go to https://oct30breakfastwithmayors.eventbrite.com .
Breakfast With the Mayors is presented quarterly free of charge thanks to the generosity of partners, which also include Williamson Medical Center, Tennessee Equine Hospital, Williamson County Association of REALTORS, Hazen and Sawyer, Berry Farms Animal Hospital & Spa, Patterson, Hardee & Ballentine CPAs, Andrews Transportation Group, and Rolling Hills Community Church. Joining the ranks of partners recently is Embrey Partners Ltd.